April 24, 2023
2.232.0
**New**
Week Peek ⚡️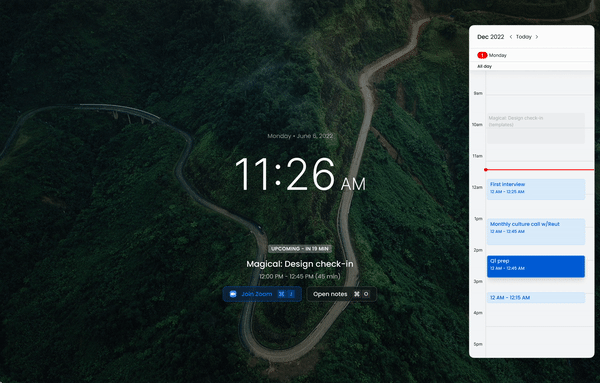 Time Peek has become Magical's most popular feature by revolutionizing how you access your time from anywhere. And now, by VERY popular demand, we're happy to announce that we've supercharged it with a brand-new Week Peek!
Week Peek lets you effortlessly check your availability, add meeting notes and agendas, and instantly join sessions for your entire week.
To speed up your work, hit "]" to open Time Peek, then "[" to change to Week Peek.
AI Notetaker - Now Compatible with all Languages 🌎
Our AI Notetaker has also been rapidly gaining fans, and it's no surprise why.
With the ability to transcribe and share detailed summaries of all of your sessions, it's a must-have for anyone who uses notes to stay on top of their meetings.
And now, AI Notetaker is breaking language barriers...
Originally compatible with just English, ****AI Notetaker is now fluent in all major languages, including Spanish, German, Hebrew and more.
To get started, go to Preference ⚙️ → Default Meeting Languages → choose your language.
Don't miss out on these incredible updates that empower you to collaborate like never before!