<aside> 💡 Communities can be segmented by groups and each group can be based on any topic you choose. Creating a group is simple and takes seconds. Detailed instructions below.
</aside>
1. Before you can create a group, you need to first create a community.
For more information on creating a community, visit the create community help section or click here.
2. Click Create Group from within your community
On the left-hand-side, click "Create New Group" Button
Complete the information in the create group form, including Group Name, Group Description, etc.
3. Create Video Chat Rooms
After your group is completed you can create events or meetings.
Meetings can be created instantly or scheduled into the future. Meetings can also be set to recur daily, weekly, or monthly.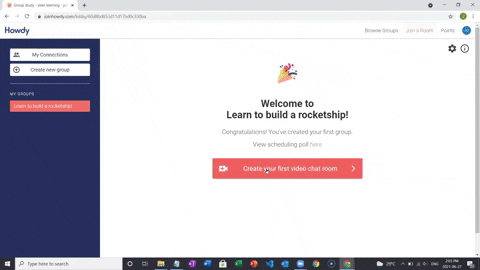 Did we miss something? Not to worry! Just email our support team at info@joinhowdy.com✌️
C