The focus here is completely on Product Management for digital technology. The life of a Product Manager may be completely different when you think of, for example, FMCG or packaged goods.
The Mission of Product Management
The glorifying statement:
As Product Managers, it is our core responsibility to build winning products that deliver great value to customers.
A bit more down to earth:
The Product Manager is the champion, the evangelist, the strategist, the voice of the customer.
And as Marty Cagan puts it:
As Product Managers, our job is to build products that our customers love, yet work for our business.
<aside> 💡 Product Management shall understand the real need of the customer.
</aside>
Essentially, Product Management is needed to avoid situations as depicted with the ill-famous example of a tire swing:
As illustrated, there are gaps and misconceptions all along the lifecycle. The primary job of Product Management is to gain a deep understanding of the customer's needs and deliver a solution that serves these needs.
<aside> 💡 Product Management is cross-functional.
</aside>
In essence, PM is working at the intersection of customers, business and technology: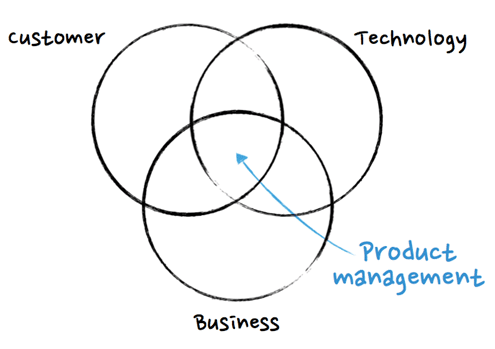 <aside> 💡 For that, Product Management connects essentially to the entire organization.
</aside>
When the Product Manager works at an Enterprise B2B company, the situation gets even more complicated as there are more stakeholders to consider:
More details will be discussed in B2C vs. (Enterprise) B2B, but in a nutshell the additional aspects are:
Alignment with the Sales team to cater for the long sales cycles and help them closing deals to support growth